Archives by Month - September 2008
Well it's been almost 2 months since the last
Home with House
podcast episode was released. The previous one was posted at the start of August and this one is only coming out at the end of September. So I will try harder to ensure subsequent episodes are only 3-6 weeks apart.
Episode 10 is all about the funk. It starts off with some straight up funk house and progresses to some more jackin house. It should keep you grooving all the way through. This mix is called "Groove Funktion".
Groove Funktion tracklisting:
1. Candy Apple - Step 2 Me feat. Anjou (Inland Knights Remix)
2. Fresh & Low - Party Stomp (Original Mix)
3. Mario Fabriani - The Groove Bug (Original Mix)
4. Kinky Movement & PK - Line Party (Original Mix)
5. White Caviare feat. Sandra Lima - Divine Love (November Remix)
6. Noir Pres. Soul Flava - Hot Part 2 (Conga Squad Remix)
7. Frequent Fliers - Lovely People (Original Mix)
8. Eddie Leader & Mario Fabriani - Windy City Theme (Original Mix)
9. DJ Jeroenski - Get Down (KTA Mix)
10. Eddie Leader & Mario Fabriani - Shouts To Johnick (Original Mix)
11. DJ Chus pres. The Groove Foundation - That Feeling (Circulation St Tropex Mix)
12. Digital Minds - Be Yourself (Original Mix)
Title:
Home with House ep10 - Groove Funktion
Vibe:
Funky House
,
Jackin House
,
Pumping House
Date Recorded:
September 2008
Length:
58:01 min
Quality:
192 kbps - 82 Mb
Download:
(Right-click and Save As)
•
CD Cover
•
Tracklist

Subscribe:
subscribe to this podcast

I've been pretty busy lately with work, gigs and other things. My gig at Earl's last week went well and I should be playing there again sometime soon. One of the reasons I've had these gigs during August was because I made a demo CD to pass around to various loungy venues. Since it will be another week or so before I'll have the next
Home with House
episode ready, I figured I'd release this demo mix in the meantime.
This demo was intended for restaurants and lounges, so the vibe is very jazzy and soulful. There are some tracks you'll recognize from my past mixes, some new tracks and some classic old school ones. There are also a fair number of vocal tracks as well. So if you're in the mood for some loungy grooves, give the mix a listen. As always, I appreciate any feedback in the comments section below. And stay tuned for a new podcast episode sometime next week.
Loungy Demo Aug 2008 tracklisting:
1. Joey Youngman - Love Life (Original Mix)
2. Soularis - I Told You feat. Mandy Edge (Vincent Kwoks Spaced Out Funk Mix)
3. Samantha James - Breathe You In (KJ's Soulful Mix)
4. Undercover Agency - Flow feat. Cheray O'Neal (House Remix)
5. Joshua Reynolds - Drama (Original Mix)
6. Miguel Migs - So Far (J Heath's Funky Hat Mix)
7. Kaskade - Steppin' Out (The Beard Mix)
8. Northwest Connection - Deeper Than You Think (Original Mix)
9. N'Dea Davenport - My Love (Craig C Vocal)
10.Neil Bainbridge - Radio Tonic (Craig Hamilton Remix)
11. Prunk Le Funk & Nevil Rickard - La Musica (Nevil Rickard Remix)
12. Sade - Nothing Will Come Between Us (De Rigeur Mix)
13. Ross Couch - Coast To Coast (Original Mix)
14. Timbalestics - The Vibe (Schwarz & Funk Remix)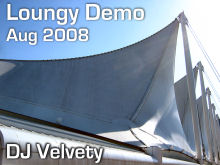 Title:
DJ Velvety - Loungy Demo Aug 2008
Vibe:
Funky House
,
Jazzy House
,
Soulful House
,
Vocal House
Date Recorded:
Aug 2008
Length:
72:45 min
Quality:
320 kbps - 171 Mb, 128 kbps - 68 Mb
Download:
(Right-click and Save As)
•
CD Cover
•
Tracklist


All content ©
Graham Davis
2020 •
Subscribe

Latest Game Creation: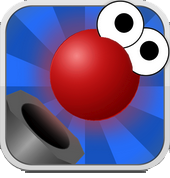 Latest DJ Velvety Mix: