Archives by Month - September 2008
Well it's been almost 2 months since the last
Home with House
podcast episode was released. The previous one was posted at the start of August and this one is only coming out at the end of September. So I will try harder to ensure subsequent episodes are only 3-6 weeks apart.
Episode 10 is all about the funk. It starts off with some straight up funk house and progresses to some more jackin house. It should keep you grooving all the way through. This mix is called "Groove Funktion".
Groove Funktion tracklisting:
1. Candy Apple - Step 2 Me feat. Anjou (Inland Knights Remix)
2. Fresh & Low - Party Stomp (Original Mix)
3. Mario Fabriani - The Groove Bug (Original Mix)
4. Kinky Movement & PK - Line Party (Original Mix)
5. White Caviare feat. Sandra Lima - Divine Love (November Remix)
6. Noir Pres. Soul Flava - Hot Part 2 (Conga Squad Remix)
7. Frequent Fliers - Lovely People (Original Mix)
8. Eddie Leader & Mario Fabriani - Windy City Theme (Original Mix)
9. DJ Jeroenski - Get Down (KTA Mix)
10. Eddie Leader & Mario Fabriani - Shouts To Johnick (Original Mix)
11. DJ Chus pres. The Groove Foundation - That Feeling (Circulation St Tropex Mix)
12. Digital Minds - Be Yourself (Original Mix)
Title:
Home with House ep10 - Groove Funktion
Vibe:
Funky House
,
Jackin House
,
Pumping House
Date Recorded:
September 2008
Length:
58:01 min
Quality:
192 kbps - 82 Mb
Download:
(Right-click and Save As)
•
CD Cover
•
Tracklist

Subscribe:
subscribe to this podcast

I've recently bought a new cell phone and have been enjoying it quite a lot. My previous phone was having recharge problems and was bound to bite the dust in the coming months so it was time for me to get something new. Also, my contract with Rogers has been up for a while, and they were offering me a bonus for resigning. So my desire to get an iPhone was building some support in the part of my brain that reasons with practicality.
To top it off, Rogers has been offering a special for adding 6GB of data to any voice plan for only $30/month until the end of September (afterwards the only other plan that comes close right now is their $115/2GB data package). And lastly, my friend
Adam
, who I think is looking for the same functionality with a gadget like this as me, has given his seal of approval on the device's performance after recently getting his own. So I finally buckled down and gave in to my desire and the growing reasons for me to buy an iPhone, and I haven't regretted it since.
Besides having a great design and being fun to use, I'm now enjoying being able to check my email, websites and Google Calendar, as well as videos, music and of course phone calls on my new "smart phone". Having all that combined with games and other custom applications on a single device, well let's just say I like it very much. And at the risk of sounding like a pretentious jerk, I'll admit that I now like to read websites and check my email while I'm walking to and from work. I've started shadowing other pedestrians and following their leads while I preoccupy myself with... data and other stuff on the iPhone. Of course, I always look up and pay attention when I cross roads, but while I'm on the sidewalk I probably look a lot like a lemming (yes, I know the cliff thing is a misconception, although
not entirely
).
So, after reading the above paragraphs it probably won't come as a surprise that one of my planned tasks on my iPhone's new
ToDo
list is to make a version of this website that is optimized for mobile devices. I'd like to be able to read and navigate this site quickly and easily on small screens (and I'd like for others to be able to do the same). Thankfully, I believe I can just insert a separate style sheet for mobile devices and I won't have to duplicate all the content. So expect my next update to include news about that new feature on
Velvety Couch
sometime soon.
I've been pretty busy lately with work, gigs and other things. My gig at Earl's last week went well and I should be playing there again sometime soon. One of the reasons I've had these gigs during August was because I made a demo CD to pass around to various loungy venues. Since it will be another week or so before I'll have the next
Home with House
episode ready, I figured I'd release this demo mix in the meantime.
This demo was intended for restaurants and lounges, so the vibe is very jazzy and soulful. There are some tracks you'll recognize from my past mixes, some new tracks and some classic old school ones. There are also a fair number of vocal tracks as well. So if you're in the mood for some loungy grooves, give the mix a listen. As always, I appreciate any feedback in the comments section below. And stay tuned for a new podcast episode sometime next week.
Loungy Demo Aug 2008 tracklisting:
1. Joey Youngman - Love Life (Original Mix)
2. Soularis - I Told You feat. Mandy Edge (Vincent Kwoks Spaced Out Funk Mix)
3. Samantha James - Breathe You In (KJ's Soulful Mix)
4. Undercover Agency - Flow feat. Cheray O'Neal (House Remix)
5. Joshua Reynolds - Drama (Original Mix)
6. Miguel Migs - So Far (J Heath's Funky Hat Mix)
7. Kaskade - Steppin' Out (The Beard Mix)
8. Northwest Connection - Deeper Than You Think (Original Mix)
9. N'Dea Davenport - My Love (Craig C Vocal)
10.Neil Bainbridge - Radio Tonic (Craig Hamilton Remix)
11. Prunk Le Funk & Nevil Rickard - La Musica (Nevil Rickard Remix)
12. Sade - Nothing Will Come Between Us (De Rigeur Mix)
13. Ross Couch - Coast To Coast (Original Mix)
14. Timbalestics - The Vibe (Schwarz & Funk Remix)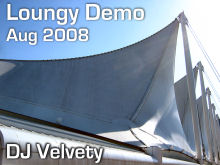 Title:
DJ Velvety - Loungy Demo Aug 2008
Vibe:
Funky House
,
Jazzy House
,
Soulful House
,
Vocal House
Date Recorded:
Aug 2008
Length:
72:45 min
Quality:
320 kbps - 171 Mb, 128 kbps - 68 Mb
Download:
(Right-click and Save As)
•
CD Cover
•
Tracklist


All content ©
Graham Davis
2015 •
Subscribe

Latest Game Creation: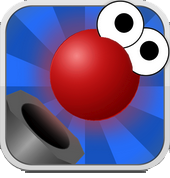 Latest DJ Velvety Mix: