Archives
Here is
Screenshot Saturday
number sixteen! I've missed the last couple weeks of screenshots because I've been so busy. Two weeks ago was
OrcaJam
, the yearly Victoria 48 hour game jam. I spent that weekend working on OddBall amongst 80 other indie game developers all working on personal projects. It was an amazing experience meeting so many other indie devs, and it was also very inspiring seeing what they were working on and jamming beside them.
Then last week was
PAX
down in Seattle. I helped out by volunteering at my friend
Andy Moore
's booth and got a free exhibitor pass (thanks again Andy). This was my first PAX and it was also an amazing experience. Over 70,000 people were at this expo with 3 buildings and over 6 floors of exhibits from AAA video game studios, indie studios, board game companies, card game companies and more. My favourite part was working in the
IndieMegaBooth
and meeting all the other indie developers. Booths are expensive at PAX, especially for an indie crew, so over 30 indie studios banded together to purchase a large area and split it into smaller booths. Talking with all the indie devs and experiencing the conference as a whole was great. Having beers and getting to know more indies each evening was even better.
So, I've been busy these last few weeks which is why I haven't been updating the blog with more screenshots. However, I've still been working on OddBall almost every day, including over 30 hours during OrcaJam! I've been polishing a lot of the graphics, adding more visual flair after experiencing the shiny indie games from PAX, implementing the 3 star rating system to provide players with feedback for how well they completed each level, and more. Today's screenshot show's the new doors that will close in between each world or area change within the game. Currently each level flows quickly into the next, but the levels are grouped into areas with a total of 5 areas encompassing the 80+ levels. I wanted to include more of a visual break at the end of each area to introduce the next one. So I now have 2 large wooden doors that will close when an area is changing, and the next area's title will appear with text.
OddBall #screenshotsaturday #16
All content ©
Graham Davis
2021 •
Subscribe

Latest Game Creation: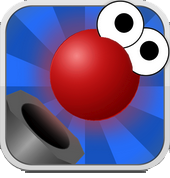 Latest DJ Velvety Mix: